Last evening I made a quick stop in my journey through the digital transformation of TECNICAL tecnologia aplicada to have the honor to pick up an e-tech award for the best technology project 2018. Here's how it went.
Each gala event or ceremony has its own kind of magic and shines with its own particular light. Last night the lights shone particullary bright for the catalan society for technology aka Promotech as I had the honor and pleasure to attend to the e-tech awards ceremony with some of the smartes and most hardworking people I've ever had the chance to met.
The association of tech companies in Girona aka AENTEG does a pretty good job in keeping professionals and companies together and pushing things forward when it comes to tech in Girona. Each year, they set up the e-tech awards where they give a prestigious recognition to companies, organizations and individuals who do their work around the tech industry and excel in some field. Awards are given to the best technological project, to the most prominent company, to top senior professionals and even to other fields like marketing campaigns or the use of the language for communicating technology.
The set up was really nice, the room was crowded and the presented projects were flawless. It's always a charm to get in touch with the local tech professionals, see familiar as well as new faces and go home with some contacts, new ideas… and in our case a very original trophy.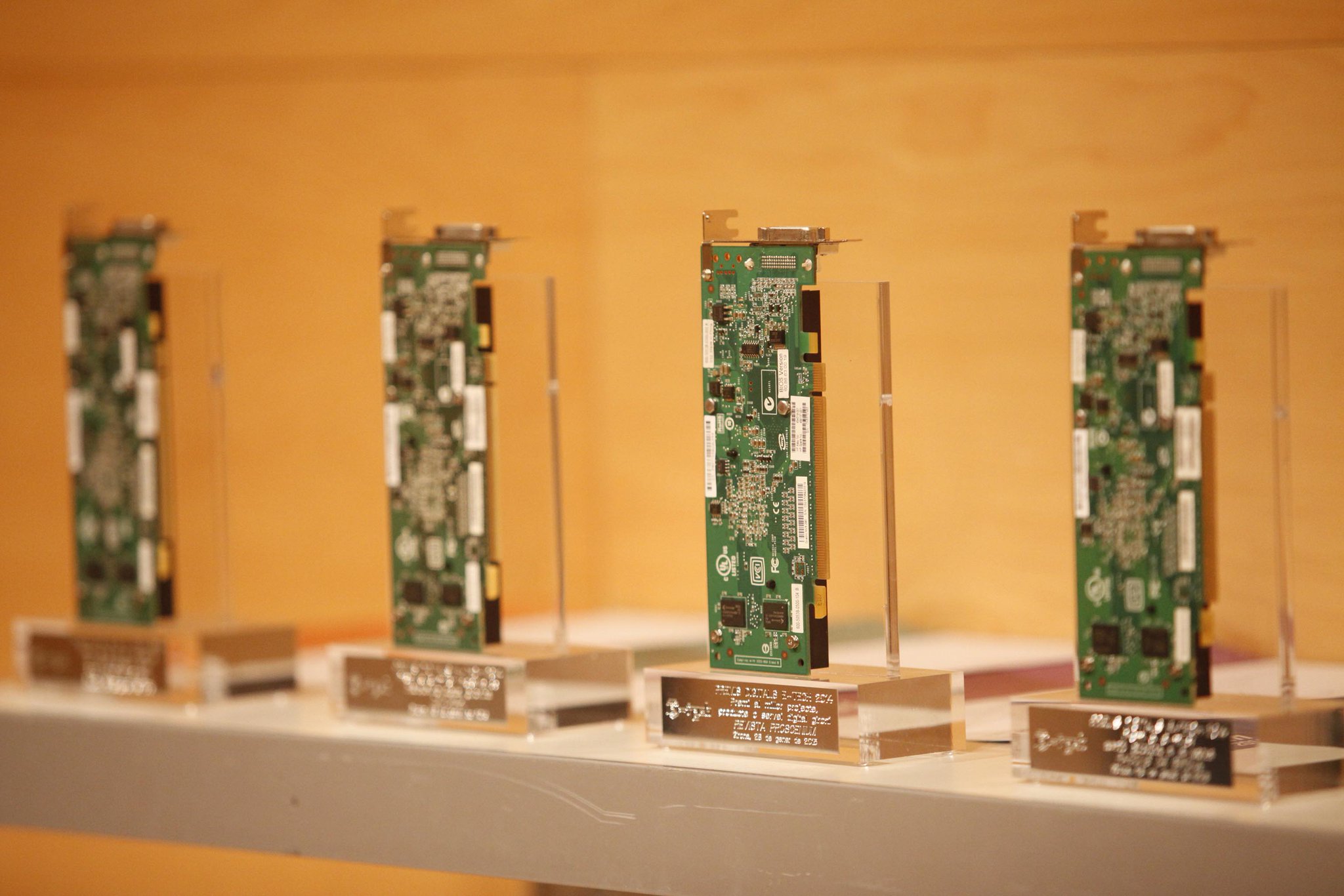 That throphy means a very big step in the road of the catalan society for technology as we've been working so hard for the community since 2016 and having an award issued directly by public votation means that our community is watching us and thinks that what we are doing is relevant at some point. Thank you.
WE MAKE PROJECTS
When I say that I'm honored by my partners in the catalan society for tech those words come from the heart. Hard work is seal of identity of this team. Promotech got started during the summer of 2016 in tables of the bar next to the polytechnical school of Girona, we were about 3 people, without money, without a place to be, only with some ideas. We had a very simple and clear idea, we wanted Girona to become a city of reference in tech, so we would not have to go abroad and look for decent opportunities and we wanted to learn as much as we could about tech, hands on style, sadly, not the way that we were learning at the university.
We spent all the summer gathering as much data as we could, we wanted to learn about every other tech hub all over, try to identify key factors, something simple, something we could start doing here, and why not… some interesting contacts we could try our look to contact with!
By the end of the summer we had a plan and some hands to work on it. We decided to start small hackathons called "hackdays" every 3 months to engage with the local community and make them connect and think aside with a bigger annual conference called Overdrive focused on connecting the local industry with their international fellows in Girona. Meanwhile the plan for the daily life during the whole year, was to set  up our own hackerspace, develop our own projects for learning and help students get up the tech-train in Girona. A pretty integral project at the end. And we did it, we can say that after 3 fantastic years, we actually made it.
We gathered more than 120 students and professionals for each of the hackday events, more than 600 attendees for the international conferences, with top tier sponsors like Telefonica or Vector ITC. And our hackerspace is hosting students every single day we developed custom products like the dc170 board and a lot of hacking related tools you can browse in our github
THE HUMAN FACTOR
As engineers we are, we like to think that the strenght of the group is the sum of the strenght of every member but when you get in touch with the reality and face the facts you end up understanding that when a team works as a team, it's power is represented by the multiplication of all the individual strenghts. As I've said we started this team with only 3 members and one of our first challenges was to start recruiting people. It's always hard to get people on board when you have no results, no material, almost nothing to show you end up compensating this with a lot of energy, good vibes and motivation, motivation is always the key.
I still remember when I first visited the "UdGeeks" hackerspace, the local hackerspace of our university campus it was only a year ago. A lot of young people like me sitting there spending every afternoon working on their personal projects, working with tools like arduino, microchip boards, step and servo motors, wireless modules, web servers, you name it they were doing it. But indeed I entered there just by pure coincidence, those guys were doing no communication and had only personal projects which is really fine also. One week after the first meeting they just convinced me to go 120% on the first Girona Hack Day a 12 hours hackathon for the community in the montilivi campus. Those who use to host and manage events know for sure that doing that is hard as a lot of different small things can go wrong in many ways, as a result of that, stress and preassure are always high discussions and arguments between the team are more than a possibility we need to manage that in a correct and efficient way. The real challenge for me was never writing some code, soldering a couple of connections or giving a speech (well honestly maybe yes) the real never ending challenge is to manage myself and help everyone in being the best version of theirselves. People change constantly and there is no generic algorithm to understand every person and I think it will never be. I can think about a lot of stuff but when it comes the true we can only listen to each one of ourselves and try to maximize the impact of every one into the group. The key in here is simple: we all know our goal, we know the direction but at the same time no one should be excluded, every opinion counts.
MADE IN GIRONA (or how we put Girona in the map)
I personally think that winning an award such as the "great public award for technology" we got means that in some way we have a responsability role in leading the tech community in Girona towards progress and internationalization. So yes, there is a community to lead (and follow) and what a community!
During the ceremony we had a chance to know about projects related to stunning topics such as: cancer detection, clean energy, communications management, responsive design and we also had the chance to discover new *made in Girona* concept presented as "mobile application renting". We also spent a lot of time cheering and chatting with other interesting communities in the area such as Digitals Girona an association of digital professionals in the area and Femminline a community of women who are in to tech AENTEG is indeed an association so you can see that we have a lot in here and we are pretty diverse and must be known.
From my point of view the near future will be all about connecting with each other and moving to bigger projects where we can all fit in and have our role. The challenges may be quite scaring but if we don't dare to go on and fight for what we want, for what we believe, nothing free is expected to come anytime soon…!
To all of you, thanks for coming and… stay in line!
ly0n